Providing ECUs to Sectors Where Failure Is Not an Option
Snowbird Technologies Inc.'s ruggedized ECU/HVAC units can withstand the most extreme weather conditions, long term, and in all environments, such as severe heat, sand, dust, salt water and fog. Our ECUs are resistant to the shock and vibration of harsh terrains and climates – select products can endure extreme weather conditions up to 135° F. Our military products are compliant with Department of Defense (DOD) standards and we offer extremely lightweight options, with some units as light as 165 lbs., and multiple vehicle mounting options.  If our systems are strong enough for the most demanding and austere conditions, on land or sea, they are certainly the best choice to protect people and equipment in industries such as:
Air-To-Water Generators With a Wide Range of Critical Applications
Snowbird Water Technologies has developed a platform that provides drinking water to those in need when traditional means of water production and purification are not viable options. Our Air-to-Water Generator (AWG) products create water from the air as a force multiplier in the field.
The Snowbird team continues to innovate, developing AWG Shower Systems and Trailer-Mounted AWG Systems to provide a complete utility support package on one mobile platform, including portable power, and other support features like tentage and environmental control. Our AWGs provide support to the following industries:
Supply Chain Solutions for Leaders Across Industries
SAMM Tech Mobile Manufacturing is a patented, containerized, end-to-end large format additive manufacturing solution, housed within standard ISO shipping containers. It features metal wire-directed energy deposition (DED) 3D printing and a cutting mill for post-processing, enabling the production of large metal and composite parts for in-field replacement and repair needs. With ruggedized durability and compatibility with industry 3D printing software and scanner systems, SAMM Tech revolutionizes parts procurement and logistics, catering to military, industrial, and humanitarian applications in industries such as: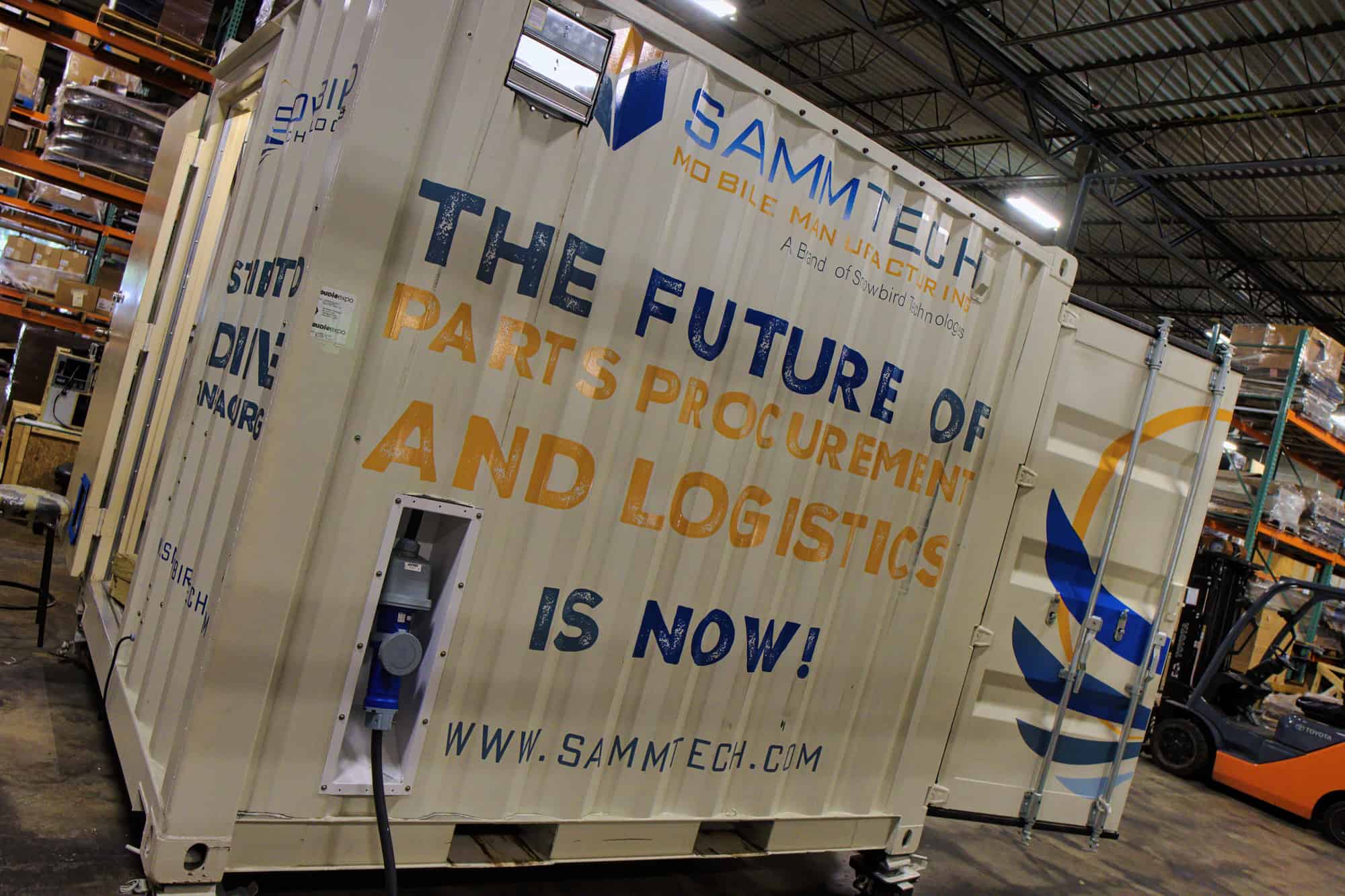 Snowbird Technologies has provided solutions worldwide, on land and sea, for customers such as:
There's Only One Choice for MISSION-SUPPORTING Solutions
Snowbird Technologies' dedication to protecting people and equipment from intolerable conditions drives their mission to provide cutting-edge technology that withstands any environment. We offer a range of custom-built environmental control units, air-to-water generators, and our latest addition, the SAMM Tech additive manufacturing platform.
Quality, Reliable Products
Customized Cooling, Water, & Mobile Manufacturing Systems